Allpoint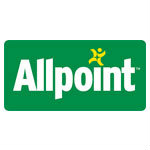 City National Bank has partnered with Allpoint® to provide our cardholders access to over 55,000 surcharge-free* ATMs.
What is Allpoint®?
Allpoint® is a surcharge-free* network of 55,000 ATMs located throughout the United States, Canada, United Kingdom, Puerto Rico, Australia, and Mexico. This includes 7-Eleven, Target, Costco, Exxon Mobil, Rite Aid, and many others.
What does this mean for you as a City National Bank customer?
You can use your existing City National Bank ATM/Debit Card at any Allpoint® ATM today; no sign-up is necessary.
Find an Allpoint® ATM click here