Chairman & CEO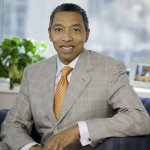 Dear Valued Customer,
We are excited to announce a new look for City National Bank and introduce REWARDS Banking, a new brand of products and services designed to meet the unique needs of each customer. Two new accounts, REWARDS Checking and REWARDS Savings, allow you to take advantage of the rewards that fit you best.
We have also unveiled a new logo, symbolizing the beginning of a new era in community-focused banking. Strengthening communities is the heart of our mission; we are bringing a progressive and revitalized energy to this commitment. We are embracing new ways to making banking with City National Bank a more rewarding and valued experience.
As you see our new look in the community, know that it represents our commitment to provide the financial resources needed to help individuals, entrepreneurs, and our corporate partners secure a brighter future.
Thank you for choosing City National Bank.
Sincerely,
Preston D. Pinkett, III
Chairman and CEO