Community Commitment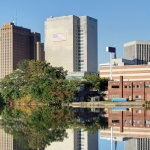 We don't just pledge our commitment to improving our community; we make it our number one priority. Because we walk the walk, City National Bank has been designated a Community Development Financial Institution (CDFI) since 1996.
Nationwide there are fewer than 100 of these specialized, insured financial institutions whose objective is to serve and strengthen economically disadvantaged markets. Banking with a CDFI organization allows you to become a direct supporter of important development projects for our communities in need.
The CDFI Fund was created by the U.S. Treasury to expand the capacity of such institutions to provide capital, credit, and financial services in underserved markets. In addition to the efforts of our own City National Urban Fund, and alignment with the Community Reinvestment Act, City National Bank receives such CDFI financial awards. These allow us to pass more capital and financing along to our distressed urban communities.
To maintain our status as a CDFI, City National Bank pledges to:
Support a primary mission of community development

Serve a distressed target market or underserved population

Provide financing and development services to that population
If you are not a City National Bank customer, make a deposit today and support community development within the local communities we proudly serve.