City National Urban Fund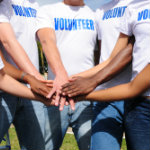 City National Bank created the City National Urban Fund (CNUF) to provide financial support for socially conscious projects that strengthen urban areas in New Jersey and New York. The CNUF is a critical component of our mission to bolster economically challenged communities to give them a more level playing field to realize the American dream.
Funds allocated from CNUF go to projects that promote economic growth through community development. They will be used to support:
Affordable Housing Development

Home Ownership and Maintenance

Start-up Capital for Small Businesses

Non-Profit Organizations Initiatives

Community Outreach Services
Community Effort
CNUF projects are funded by Social CD deposits with City National Bank. We use these CD deposits to improve the quality of life for the less fortunate members of our communities.
This also makes CNUF outreach projects a true community effort. Anyone can open a Social CD with City National Bank. There is no difference in how the CD will affect the individual's investment portfolio. It still earns the same excellent rate, terms, and federal insurance as any City National Bank CD. The only difference is how we use the deposited funds.
The City National Urban Fund is one more way City National Bank lives up to our mission to meet the needs of the urban community. We are committed to revitalizing communities and empowering people. You can help us achieve a lasting impact by keeping your bank deposits within the community, where they will help strengthen us all.